How to travel and go to Santorini
---
Santorini, a small Aegean Sea Island, is famous for its magnificent scenery, white-washed homes, and characteristic blue domes. Thousands of travelers from all over the world visit this Greek gem each year to experience its charm and beauty firsthand. Yet, travel to Santorini might be difficult because the island is only accessible by plane or boat. This guide will cover all you need to know about flying or sailing to Santorini, as well as suggestions and ideas for a stress-free journey to this wonderful destination. Whether you're a seasoned traveler or a first-time visitor to Santorini, our professional guide will help you organize the perfect trip.
Flying to Santorini
Flying is your best choice if you want to travel to Santorini as quickly and conveniently as possible. The eastern side of the island, close to the village of Kamari, is where Santorini's International airport is situated. While the airport is tiny, it serves several airlines that fly directly to Santorini from important European cities including London, Paris, Rome, and Amsterdam.
There are a few things to consider before booking your trip to Santorini. First off, it's a promising idea to book your trip far in advance, especially if you're going during the peak vacation season (June-August), since flights may fill up rapidly and costs can go high. The second option is to think about utilizing a flight aggregator website to check costs across several airlines and locate the best offers.
You have a few options for getting to your accommodations after landing at Santorini Thira Airport. Although they can be pricey if you're going to the more isolated areas of the island, taxis are available outside the airport. Using the local bus service, which often travels between the airport and Fira, the center of Santorini's city life, is a more cost-effective choice. To go to your ultimate destination, you can change to a different bus from there. You can also choose to rent a car, which will allow you the freedom to see the island at your own pace. Santorini Holiday Cars have parking at the airport, so it's easy to pick up your rental car upon arrival.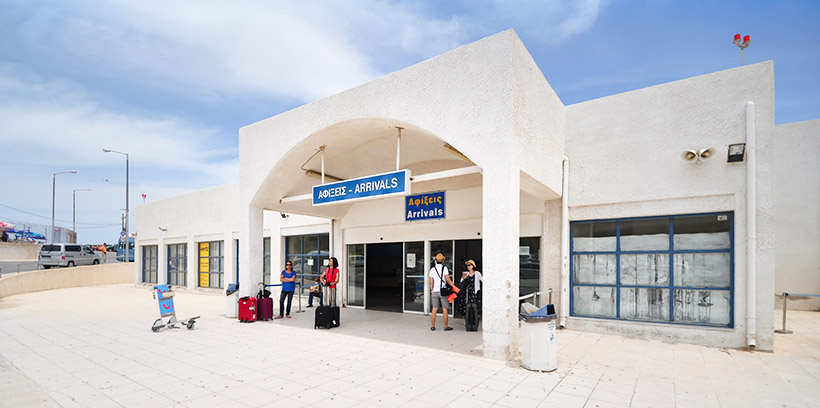 Santorini National Airport
Tel: +30 22860 28400
Athens International Airport – Eleftherios Venizelos
Tel: +30 210 353 1000
Website: www.aia.gr
Thessaloniki International Airport – Macedonia
Tel: +30 2310 473 212
Website: www.thessalonikiairport.com
Using a Boat to Get to Santorini
Taking a ferry is a fantastic option if you're looking for a more picturesque and exciting way to travel to Santorini. Athinios and Old Port (Fira), the two ports on Santorini, both receive frequent ferry services from the Greek mainland and nearby islands. Santorini is served by several ferry companies, including Blue Star Ferries, Hellenic Seaways, and Seajets.
It's crucial to plan when purchasing ferry tickets, especially during the busy season when they can quickly sell out. You can purchase your tickets at the port or online, but online purchases are frequently more affordable and practical. To avoid any last-minute stress, it's also an innovative idea to make your reservations a few days in advance.
Depending on where you start, the ferry ride to Santorini may be quite long. For instance, the trip from Athens can take up to 6 hours, while the trip from Mykonos only takes about 2.5 hours. You will get to see breathtaking views of the Aegean Sea and the Greek islands along the way, so the journey itself is an integral part of the experience.
There are several ferry companies that provide daily routes to Santorini from adjacent islands including Mykonos, Naxos, Paros, and Crete, as well as from the Athens ports of Piraeus and Rafina.
There are two types of ferries that go to Santorini: fast catamarans and slower automobile ferries. High-speed catamarans are more expensive and quicker, but they provide a smoother and more pleasant trip with air conditioning, sitting spaces, and snack bars. Slower auto ferries are less expensive and less luxurious, but they provide greater space and flexibility for tourists who wish to bring their own vehicles or travel in big groups.
When you arrive at Santorini's port, you have several transportation options to get to your accommodations. Taxis are available outside the port, but they can be quite expensive, especially if you want to visit the island's more remote areas.
A less expensive option is to take the local bus, which runs frequently between the ports and Fira's main bus station. You can then transfer to another bus to get to your destination. You can also rent a car, giving you the freedom to explore the island at your own pace. Santorini Holiday Cars have parking at the ports, making it simple to pick up your rental car when you arrive.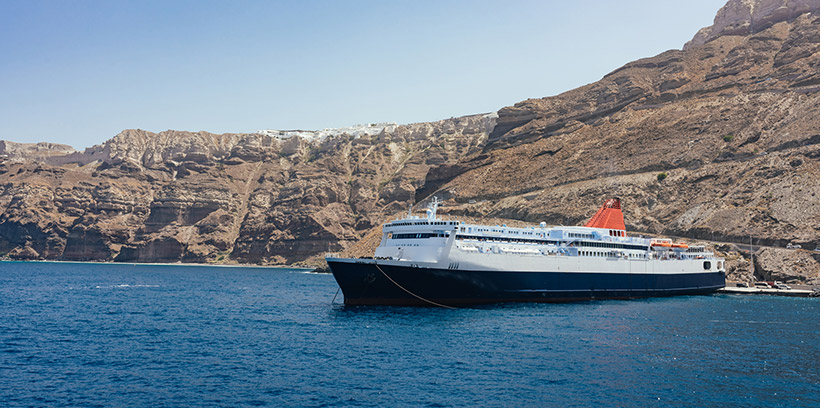 Port Authority of Santorini
Tel: +30 22860 22239
Piraeus Port Authority
Tel: +30 210 422 6000, 6001, 6002, 6003 or 6004
Website: www.olp.gr
Thessaloniki Port Authority
Tel: +30 2310 531 504 or 505
Rafina Port Authority
Tel:+30 22940 28888 or 22300
Website: www.rafinaport.gr
When is the best time to visit Santorini?
Although Santorini may be visited all year long, the ideal time to go will depend on your priorities and interests. When the weather is bright and sunny and Santorini is crowded with tourists, the months of June through August are considered the island's prime season. The beaches, water sports, and nightlife are at their peak at this season, but it's also the costliest time of year to go due to higher costs for lodging, airfare, and activities.
Consider visiting Santorini in the shoulder seasons, which are April to May and September to October, if you want a more relaxing and cheap vacation. There are fewer people around and costs are lower during this time, while the weather is still good. Although you'll have more time and space to unwind, you may still enjoy the outdoors and beaches on the island.
Traveling to Santorini in the off-season, which is from November to March, might be a terrific alternative if you don't mind lower weather and sporadic rain. The island is much more serene currently, with fewer visitors and cheaper rates for lodging and entertainment. The local cuisine, culture, and landscape are still enjoyable, but you'll need to bundle up and be ready for sporadic rains and winds.
In general, your budget, travel objectives, and tastes will determine the ideal time to travel to Santorini. No matter when you decide to travel, Santorini is a stunning and distinctive location that will provide you with priceless memories.
Car Rental in Santorini
Renting a car in Santorini is an excellent way to explore the island at your leisure and see all that this stunning destination has to offer. Santorini Holiday Cars is a leading car rental company in Santorini, who offers a diverse fleet of vehicles ranging from small cars to cabrio and convertible.
There are a few things to consider when renting a car in Santorini. To begin, you must have a valid driver's license from your home country, as well as an International Driving Permit if your license does not speak English. To rent a car in Santorini from Santorini Holiday Cars, the minimum age is 22 years, and the maximum age is 72 years for the driver to rent a car.
Second, it is critical to select the best car for your needs. A smaller car might be a wonderful alternative if you're traveling with a small party or on a budget. If you're going to a bigger party or want additional room and comfort, a larger car or minivan could be a better option.
Finally, you must be informed of local traffic norms and regulations, as well as be prepared for Santorini's tiny and twisting roads. It's also a clever idea to inquire with your car rental company about insurance and roadside assistance in the event of an accident or breakdown. Santorini Holiday Cars' price includes the following insurance:
Local Taxes and Vat
Third-party insurance
Car Theft Protection
You can also choose to add fully comprehensive insurance (CDW).
Overall, renting a car in Santorini may be a pleasant and straightforward way to explore the island and discover all the island's hidden jewels. Simply prepare travel to Santorini ahead of time, select the best vehicle for your needs, and drive safely and responsibly.