Santorini Car Rental Offices
---
Santorini Holiday Cars is a leading car rental company in Santorini, with its Car Rental Offices in Kamari, a charming coastal village. Our office is open 24 hours a day, seven days a week to ensure that you can pick up or drop off your chosen vehicle whenever it is convenient for you, and we provide this service free of charge anywhere on the island.
With over 15 years of experience in the Santorini car rental industry, we are committed to providing our customers with the best vehicles at competitive prices. Our rental car fleet includes a wide range of models, from small and economical to spacious and luxurious, to meet any travel needs or budget.
With Our Airport Car Rental Services in Santorini, you will have a hassle-free car rental experience
We take pride in providing our clients with a hassle-free car rental experience at Santorini Holiday Cars. To ensure that you have a safe and enjoyable trip on this beautiful Greek island, we provide a variety of benefits such as unlimited mileage, full insurance coverage, and 24-hour roadside assistance. You can rely on us to provide you with the best car rental services in Santorini, thanks to our expert team of professionals and excellent customer service.
Santorini is a stunning island with endless opportunities for exploration and discovery. Renting a car is the best way to get around and see everything Santorini has to offer, whether you're planning a romantic getaway, a family vacation, or a solo adventure. And when it comes to renting a car on the island, Santorini Holiday Cars is the best option.
Not only can you rent a car from our website in a convenient manner, but you can also take advantage of incredible discounts for early booking. Pre-book your rental car and save up to 40% off the regular rental price. What's more, the best part? If you book even earlier, you can get even better deals. You can plan your trip ahead of time and save money on your car rental with Santorini Holiday Cars.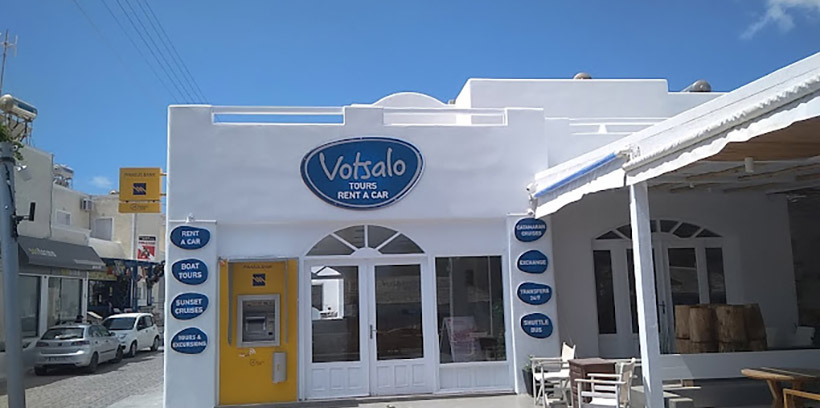 Car Rental in Santorini at the Lowest Prices
When planning a trip to Santorini, transportation is always an important factor to consider. Fortunately, our Santorini car rental company provides a wide range of vehicles to suit all tastes and budgets. Whether you're traveling alone, as a couple, or with family and friends, our diverse fleet of vehicles has you covered.
Our vehicle selection includes small cars, which are ideal for exploring the island's narrow roads and alleys. These vehicles provide flexibility and speed, allowing you to travel around the island quickly and easily. If you're traveling with family or friends, you may want to choose a larger vehicle with more space and comfort. Our large family cars have plenty of room for passengers and luggage, allowing everyone to relax and enjoy the breathtaking scenery of Santorini in comfort.
Santorini Holiday Cars take great pride in providing our customers with modern and well-maintained vehicles. Our vehicles are subjected to routine mechanical inspections and approval by experienced technicians to ensure that they are in excellent condition and fully equipped for your safety and convenience. We understand that your car rental experience is an important part of your trip, which is why we provide a diverse selection of vehicles, all of which are guaranteed to meet and exceed your expectations.
Our staff will be happy to answer any questions you may have about driving on the island
We at Santorini Holiday Cars believe that renting a car should entail more than just picking up and returning a vehicle. That's why we have, in our Car Rental Offices, friendly and knowledgeable staff on hand to help you plan your itinerary and make the most of your trip to Santorini.
When you arrive at our car rental offices, we will greet you warmly and provide you with a complimentary Santorini road map. Our team will walk you through the map, highlighting the most scenic routes and must-see attractions. We'll also share our insider knowledge of the best local restaurants, hidden beaches, and cultural landmarks for a truly authentic Santorini experience. Whether you're a first-time visitor or a frequent traveler, our team is here to make your trip as easy and enjoyable as possible.
In addition to providing you with a map and insider information, our staff will be happy to answer any questions you may have about driving on the island. We understand that navigating Santorini's narrow and winding roads can be difficult, especially if you are unfamiliar with the island. As a result, our team is always available to provide you with valuable driving tips and advice on how to stay safe on the road. With our assistance, you can confidently and easily explore every corner of Santorini.