Should Ι rent a car in Santorini?
---
Santorini is one of the top tourist destinations worldwide and its unparalleled beauty can justify that completely. With amazing historic monuments and the imposing caldera stretching throughout the island, Santorini is certainly a welcome sight. Even though it is an island, renting a car in Santorini from Santorini Holiday Cars is strongly suggested. Indeed, the distances that you must cross to get to the most famous beaches, villages, and points of interest are substantial. Imagine that the distance from the picturesque village of Oia to the renowned beach of Perissa stretches to 27 kilometers, the distance from the same village to Kamari beach is about 20 kilometers and the distance to Santorini International Airport (JTR) is about 17 kilometers.
This is why hiring a Santorini Car Rental is imperative, in order not to miss any of the sights and attractions of the island. Some wonderful routes can only be accessed by car driving and therefore you need to rent a vehicle and enjoy your holidays to the fullest. Go ahead with renting your car from Holiday Cars with free pick-up locations anywhere on the island and discover the magnitude of the beauty and elegance of Santorini. All our vehicles are of the finest quality standards, and you will get the chance to choose from quite a few different models and types of vehicles. Our experience and our constant support, along with the ultimate value for money have made us the perfect option in the field of Rental Cars. We are at your disposal to tend to your needs in Santorini!
Renting a car in Santorini can be an excellent way to explore and enjoy the beauty of Santorini by driving. There are several advantages to having your own car in Santorini, and with the right preparation and research, you can have a fantastic time in the car.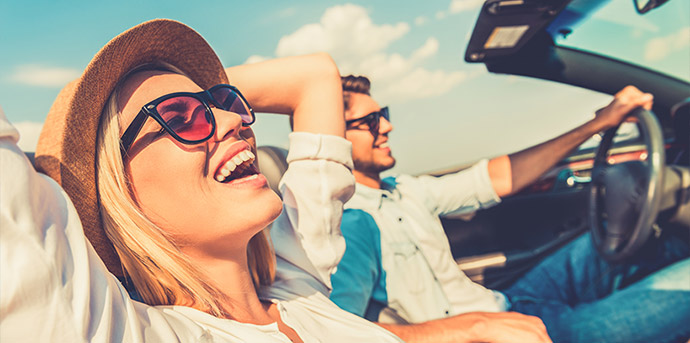 Advantages of Renting a Car in Santorini
Convenience – Traveling around the island at your own pace and convenience is made possible with a personal vehicle. You don't have to rely on public transportation or pay for expensive taxi rides in order to travel to all the attractions you want.
Exploration – Santorini has some of the most breathtaking views in the world, and a car makes it easy to visit the island's various villages, attractions, and beaches. You can take your time to enjoy the scenery and discover the island's special places for you.
Cost – Renting a car in Santorini from Santorini Holiday Cars might be an excellent way to save money. You won't have to rely on public transit or cabs for every trip, and you can plan ahead of time to obtain the best price.
Safety – Renting a car can also provide you with a sense of security, as you always drive the vehicle as if it is your vehicle!