Kamari Beach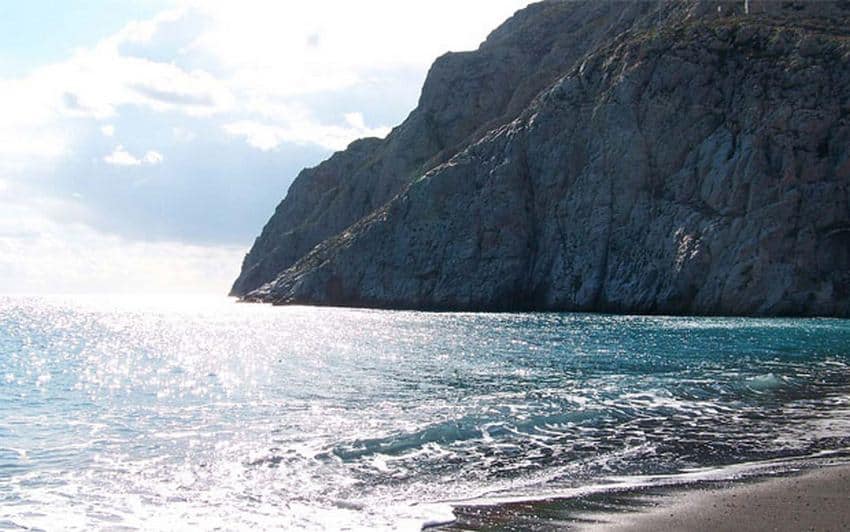 Kamari Beach is one of the most popular beaches in Santorini. It is located in the seaside village of Kamari, one of the most famous seaside resorts on the island, located 10 kilometers southeast of Fira and very close to Santorini International Airport.
Kamari Beach is one of the largest beaches in Santorini, seemingly endless, with the black volcanic sand in perfect contrast to the turquoise blue of the sea, creating a fantastic setting.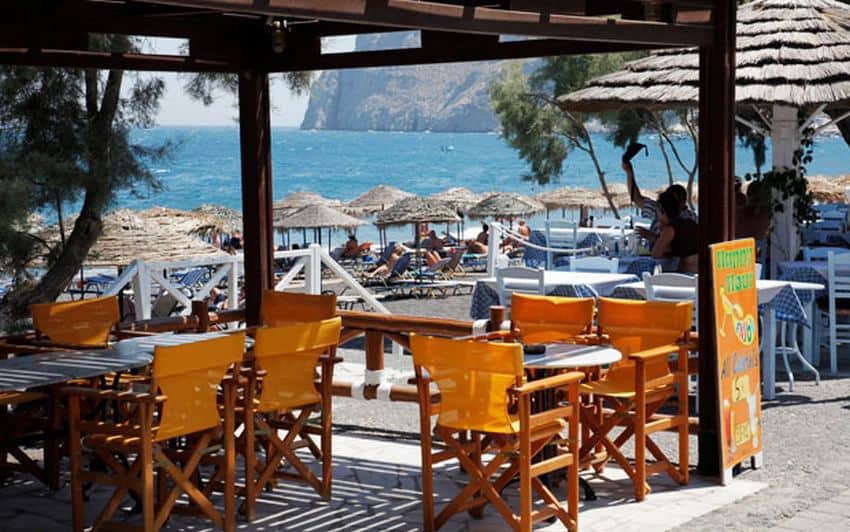 With the magnificent Mesa Vouno mountain in the background, the beach of Kamari is the perfect place for swimming. The area offers a stunning landscape, especially at night when the rock is floodlit.
Kamari Beach has been awarded the Blue Flag while it is organized and has a lifeguard.
Kamari, as a village, is built at the foot of the imposing mountain Mesa Vouno, where the famous archaeological site of Ancient Thira is located. It is easily accessible by local buses from both Fira and the rest of the island, and if you drive there, there is a large car parking where you can leave your vehicle easily and quickly.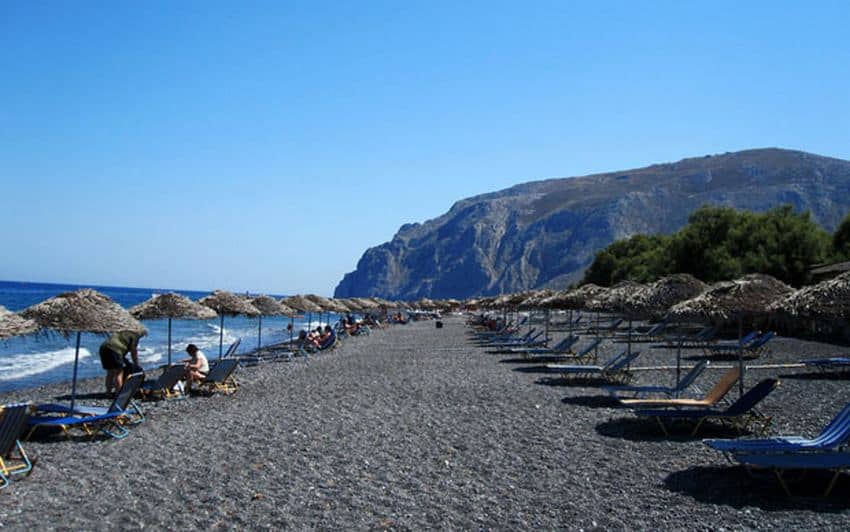 Kamari also offers a good nightlife selection with many club bars lining the beach road.
A stone-paved promenade for strolling that runs parallel to the beach stretches across the crescent moon-shaped bay. This is closed off to traffic during the summer months.
Kamari area includes Agia Paraskevi, Kamari village, and Kamari beach. Kamari suffered a great period of development after the earthquake of 1956, with the help of the inhabitants of Mesa Gonia village, which had been almost destroyed by the earthquake.
The best hotel in Kamari on the beach, just a breath away from the sea, is the Μakris Beach Hotel.
Things to do in Kamari:
Visit Ancient Thira
Stay up late and go to one of the beach bars with live music
Shop shop shop – Because Kamari has a great selection of ethnic knick-knacks and souvenirs
Eat a great meal opposite the beach
Cine Villaggio – Indoor Cinema Kamari Shopping Center
Open Air Summer Cinema – just before Kamari
Try the water sports
Swim and also sunbathe
How to Get
There are 3 ways to get from Fira to Kamari:
Bus (28 min)
Get the bus from the Fira Bus Station. According to Santorini Public Buses' website, the prices are:
1.80€
Low price (-50%) for people having many children or any kind of disability 0.90€
Students 1.40€
Night Routes (00:30-05:00) 2.30€
Santorini Taxi or Santorini Transfer Service to Kamari Beach (14 min)
Book your Santorini Transfer to Kamari Beach with a taxi or minibus instantly and safely. Just fill in the form fields and choose the vehicle that is right for you.
Drive by your car or hire a car in Santorini (12 min)
You can visit the famous Kamari beach in your car or with a car from Santorini Car Rental by Santorini Holiday Cars.