Do I Need a Rental Car in Santorini, Greece?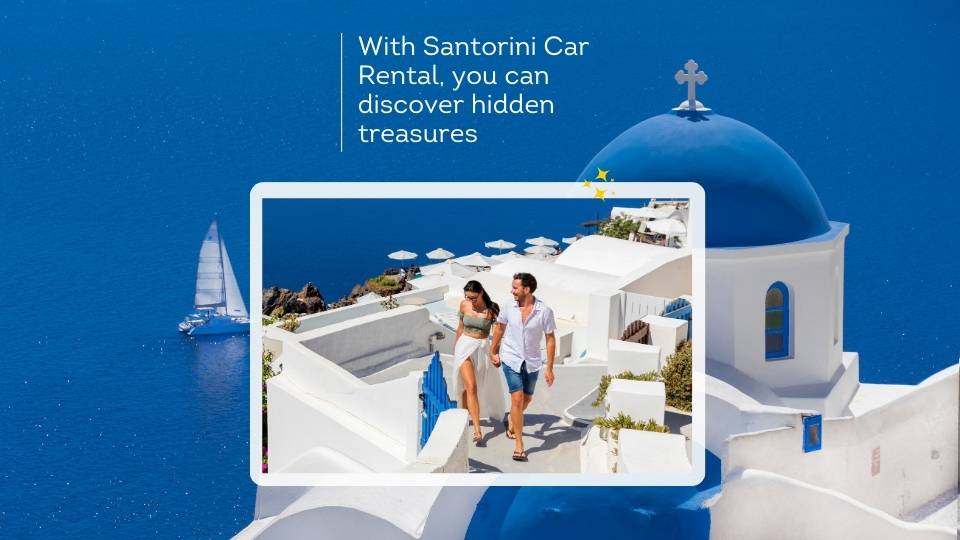 Do I Need a Rental Car in Santorini? With the freedom of a rental car, you can discover the true essence of Santorini! Experience the thrill of reaching out to remote areas and hidden gems that are not easily accessible by public transportation.
Welcome to Santorini, a stunning Greek destination known for its magnificent vistas, quaint towns, and mesmerising sunsets. Santorini, located on the Aegean Sea, is a refuge of beauty and calm that draws visitors from all over the world.
Santorini, known for its famous blue-domed churches, whitewashed buildings, and spectacular cliffs, is a captivating combination of natural wonders and traditional charm. Wander through gorgeous cliffside communities with tiny cobblestone alleyways that lead to breathtaking views of the turquoise sea.
Prepare to be fascinated by Santorini's famed sunsets, which paint the sky in shades of orange, pink, and purple as the sun begins its beautiful drop. The island's appeal is likely to keep you fascinated, whether you're wandering along the volcanic beaches or eating traditional specialties at a beachfront taverna.
Discover Santorini's own personality and immerse yourself in the island's rich history and culture. Discover ancient ruins, vineyards producing fine wines, and the ruins of a once-thriving Minoan civilisation.
Santorini promises a memorable experience filled with wonder and amazement for those looking for an exquisite retreat. Accept the fascination of this magical island and make memories that last a lifetime.
Do I Need a Rental Car in Santorini? Explore at your own pace
Discover Santorini's freedom like never before! With our car rental service, you can explore the island's hidden treasures, go off the beaten path, and make unforgettable memories with spontaneous stops along the way.
Say goodbye to set schedules and hello to the freedom of exploring at your own pace. You have the freedom to visit iconic landmarks, charming villages, and serene beaches whenever you want with a rental car. No more crowded tour buses or relying on public transportation schedules – the island is yours to explore.
Enjoy the thrill of discovery as you discover quaint cafes, breathtaking viewpoints, and picturesque corners that only locals know about. Take in Santorini's scenic beauty from every angle, capturing those perfect moments that make your journey truly yours.
Discover the true essence of Santorini and immerse yourself in its distinct culture and way of life. Navigate winding roads at your leisure, enjoy the freedom to pause for photos, and take in the island's captivating atmosphere.
Don't overlook the benefits of renting a car; it's the key to experiencing the best of what Santorini has to offer. Discover, explore, and experience the island on your own terms, creating cherished memories that will linger long after you've said goodbye to this enchanting destination.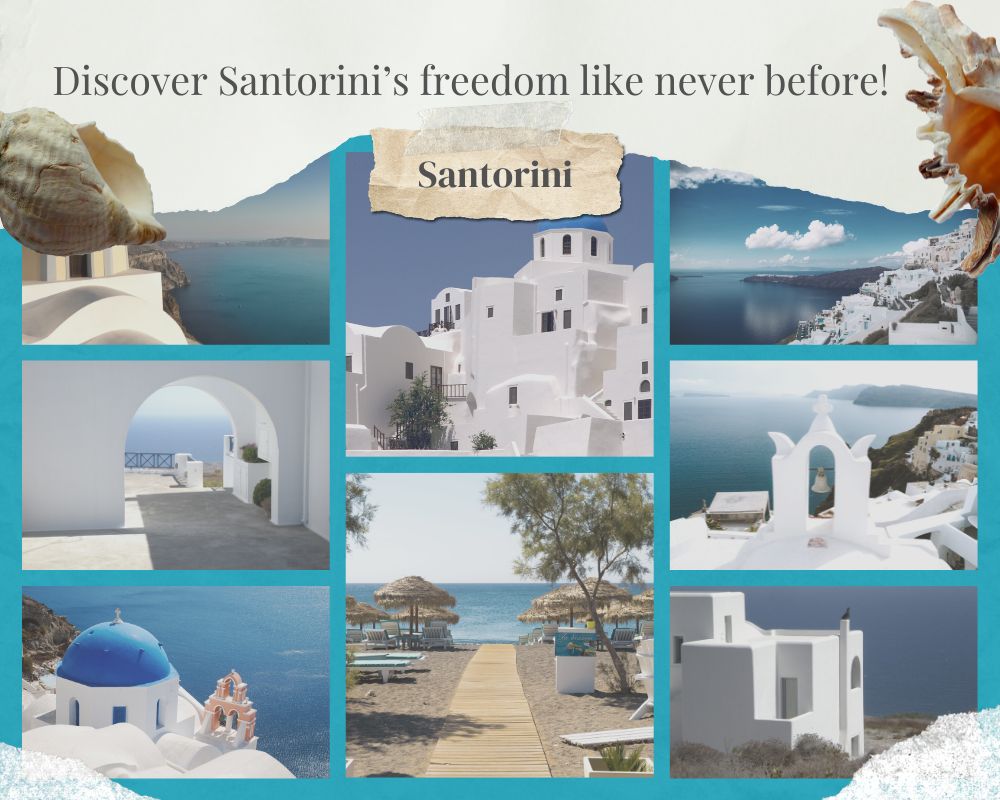 With Santorini Car Rental, you can discover hidden treasures
Hire a car in Santorini to find hidden gems! Explore this breathtaking Greek island's picturesque vistas and quaint villages as you go on an enchanting journey. With the freedom to travel at your own pace, you'll find undiscovered treasures and make priceless memories. Our car rental service opens doors to extraordinary experiences, whether it be the mesmerizing sunsets, off-the-beaten-path locations, or unplanned stops. Make your travel dreams come true by exploring Santorini with us and discovering its magic.
Off-the-Beaten-Path Exploration: Navigate through winding roads and explore charming villages hidden away from the tourist crowds. Discover the island's best-kept secrets and embark on your own unforgettable adventure.
Discover Serene Landscapes: Take a scenic drive to see panoramic views of the Aegean Sea and volcanic landscapes. Capture picture-perfect moments that will take your breath away.
Escape to Secluded Beaches: A rental car allows you to visit secluded beaches and enjoy the pristine beauty of lesser-known beaches. Away from the hustle and bustle, bask in the sun and swim in crystal-clear waters.
Authentic Flavors: Take a drive to traditional tavernas and savor authentic Santorinian cuisine that may be hidden away from the main tourist areas. Taste the island's distinct flavors and become immersed in local culture.
Discover Secret Spots to Witness Santorini's Legendary Sunsets: Seek out secret spots to witness Santorini's legendary sunsets in all their glory. Make magical memories as the sun sets below the horizon, painting the sky with vivid colors.
Picture-Perfect Photography: Take advantage of the luxury of stopping on the spur of the moment to capture captivating landscapes and charming architecture. Fill your camera roll with photos that will make your friends jealous.
Make Your Own Itinerary: Take control of your schedule and visit attractions on your own terms. Skip the lines and spend more time exploring the places that have captured your heart.
Don't pass up the opportunity to discover hidden treasures and embark on a one-of-a-kind adventure. Rent a car in Santorini and start exploring!
Santorini Car Rental by Santorini Holiday Cars: Your Gateway to Adventure
Renting a car in Santorini provides the ultimate in convenience! There will be no more fixed schedules or waiting for public transportation because your car will be ready to take you on day trips and exciting excursions whenever you want.
Day Trips on Your Own Terms: With a rental car at your disposal, you can plan day trips on your own schedule. Explore ancient ruins, beautiful beaches, and picturesque villages at your own pace, without regard for time constraints.
Discover Hidden Gems: Explore the island's hidden treasures that may be off the beaten path. Explore off-the-beaten-path locations to discover the true essence of Santorini's beauty.
Embrace Spontaneity: Allow yourself to be spontaneous and follow your whims. Have you found a breathtaking location? Take a moment to appreciate the scenery. Do you want to take a detour? Begin an impromptu adventure. With a rental car, you have complete control over your journey.
Sunset Chasing Made Simple: See Santorini's breathtaking sunsets from the best vantage points. You can easily chase the sun as it paints the sky with stunning colors if you have a car. Capture picture-perfect moments to treasure for a lifetime.
Effortless Excursions: Whether you're planning a trip to the iconic Red Beach or a wine-tasting tour, having a rental car ensures a smooth and comfortable journey to all of your destinations.
Enjoy the Beach Days and hassle-free beach exploration. Increase your time spent swimming, tanning, and lounging by the glistening ocean. You can travel to a number of beaches in a single day thanks to your automobile.
Freedom to Roam: Follow your curiosity! You may go at will across the island in a rented automobile, seeing its delights and making priceless memories as you go.
Take out on a hassle-free journey with a Santorini rental car. Bid farewell to set timetables and welcome the flexibility to take your time discovering this captivating island.
Tips for a Smooth Ride While Getting Around Santorini
While driving around Santorini in a rental car may be an amazing experience, it's important to be aware of any potential roadblocks you could run across.
Santorini's appeal is a result of its small streets and scarce parking spaces, particularly in the island's most tourist regions. To minimize any problems, consider using authorized parking locations or arriving early to obtain parking places.
Navigating crowded locations: During the busiest travel times, certain locations may become crowded, which can slow down your driving. Keep your composure, pay attention, and drive safely. From the luxury of your rental car, take in the island's splendor at a leisurely pace.
Sharing roadways with Other Vehicles: Mopeds, ATVs, and walkers all use Santorini's roadways, which adds to the island's lively ambiance. Keep an eye out, yield when appropriate, and softly use your horn to let other drivers know you're approaching around blind corners. Driving with respect guarantees a secure coexistence with all other road users.
Navigating Winding Roads: The picturesque terrain of Santorini includes winding roads, particularly those that go along the cliffs. While traveling these gorgeous roadways, use additional caution, slow down, and keep control. The careful drive is definitely worth it for the breathtaking vistas.
Take into Account Off-Peak Exploration: If you want a more tranquil driving experience, think about exploring in the early morning or during off-peak times. The roads will be entirely to oneself, ensuring a calm and undisturbed drive.
Make sure you have a dependable GPS or navigation program to assist you in navigating Santorini's convoluted road system. This will be your dependable travel partner, seeing you safely through all the turns and detours.
Proximity to Accommodations: When selecting a rental car, take into account its size to fit through tight streets and its location in relation to your lodging. It could be easier to navigate Santorini's lovely towns with a tiny automobile.
Your rental vehicle journey will certainly be one to remember if you approach the difficulties of Santorini's roads with a cheerful perspective. Take your time, enjoy the trip, and let the island's beauty to mesmerize you at every turn.
Santorini Holiday Cars: Car Rental Benefits
Several modes of transportation, like as buses and taxis, make it simple to explore Santorini's natural splendor. While these choices are practical, Santorini Holiday Cars' car rental service offers further advantages that improve your trip.
Effective Public Buses: Santorini has a well-connected bus network that is perfect for tourists on a tight budget. Major tourist destinations and towns are served by buses, which make transportation affordable. However, scheduling might be rigid, which reduces your spontaneity and flexibility.
Taxis are convenient since they are available and provide door-to-door service, which makes them ideal for shorter distances or when there is a pressing need for time. However, taxi charges may rapidly mount up, particularly for longer trips, which affects your entire travel budget.
Renting a car gives you the flexibility to explore the island at your own speed.  There are no set timetables or waiting periods; only the excitement of unplanned detours and discoveries. Having a car at your disposal allows you to explore far-off places, secret attractions, and famous perspectives at your convenience.
Seamless Island Exploration: Santorini Holiday Cars makes sure that the rental process is seamless, so you can start your trip without stress. Choose from a wide selection of cutting-edge automobiles, accommodating all types of travel preferences and group sizes, from agile small cars to roomy family SUVs.
Access to Remote Treasures: With your rental car, you may travel to remote treasures that perhaps are inaccessible to public transit. Discover historic sites, immaculate beaches, and quaint communities.
Family-Friendly Travel: Are you taking a family vacation? Rental cars make it easy to have roomy interiors, kid seats, and baggage space, ensuring that everyone is comfortable throughout your trip to Santorini.
Dependable Rental Service: Santorini Holiday Cars promises excellent service and immaculate automobiles, giving you confidence as you set off on your trip. Our knowledgeable staff is on hand to help you at any time during your rental experience.
Sunset Expeditions: Easily drive to the best locations to witness the enchanting Santorini sunsets from amazing vistas. As you take in the alluring beauty of the island, make cherished memories that will last a lifetime.
With the help of Santorini Holiday Cars Car Rental Service, maximize your Santorini experience. Take advantage of the thrill, independence, and adaptability that come with having your own wheels.
Explore Santorini: Travel In Style
Choosing the ideal car rental that is suited to your individual travel tastes, length of stay, and schedule of activities is the first step in having the ideal Santorini experience.
Island exploration is possible because to Santorini's varied topography, which offers a wide range of activities from discovering historic sites and famous landmarks to unwinding on lovely beaches. Renting a car makes it simple to reach off-the-beaten-path locations and breath-taking vistas that might be inaccessible by other means of transportation.
Short or Long Stays: Your choice of a rental car may be influenced by how long you intend to stay in Santorini. Short visits benefit from the ease of a rental car, allowing you to explore more of the island's highlights in the least amount of time. Long-term rentals, on the other hand, are ideal for completely engrossing oneself in the island's culture and charm.
Shopping & Convenience: Having a rental car makes it simple to transport your purchases without the inconvenience of public transportation if shopping is on your schedule. You can indulge in retail therapy worry-free if you have a trunk to put your shopping bags in.
Gastronomic Adventures: A rental car enables foodies eager to discover Santorini's gastronomic pleasures to travel to quaint neighborhood restaurants and traditional tavernas hidden away in the villages.
Relaxation & Leisure: If the focus of your Santorini vacation is leisure and relaxation, a rental car gives you the freedom to see the island's calm locations and peaceful beaches at your own pace.
Nighttime Wanderings: Take in Santorini's captivating evenings with a rental car, which will allow you to travel to lovely locations for stargazing or photographing breathtaking nightscapes.
No matter your preferred form of transportation, Santorini Holiday Cars has a wide selection of contemporary cars, assuring a hassle-free rental experience that fits your schedule and preferences. Select the best rental car to create cherished memories that will last a lifetime on a spectacular Santorini excursion.
Do I Need a Rental Car in Santorini? Rental Car Vs. Public Transport
When researching transportation alternatives for your trip, it's critical to consider the total cost of renting a car in Santorini, which includes fuel, insurance, and other charges.
Benefits of Renting a Car: While renting a car offers unmatched convenience and flexibility, it's important to weigh all associated costs, such as the daily rental rate, fuel costs, and insurance coverage. Having to effectively manage these costs strikes a balance with the flexibility to tour the island at your own speed.
Weighing Transportation Costs: Evaluate the price of a rental car against that of other modes of transportation, such as taxis, buses, or private transfers. To choose the most affordable option for your Santorini journey, consider your preferred activities, destinations, and the number of travelers.
Fuel Efficiency: Choose a rental car with good fuel economy to keep costs down, especially if you intend to travel long distances or drive a lot while there.
Comprehensive Insurance: Although rental automobiles come with insurance, it is advisable to acquire supplemental coverage for peace of mind. To make an informed choice, weigh the advantages of comprehensive insurance, which includes coverage for accidents, damage, and theft.
Public Transportation: The bus system in Santorini is well-connected and provides inexpensive ways to go around the island. Buses, however, sometimes have set schedules and have limited access to rural areas.
Taxi costs can add up, particularly for numerous trips or large distances, despite the fact that they are widely available and offer door-to-door service.
Traveling in a group? Renting a car might be more cost-effective because it allows for efficient transit to numerous destinations while also distributing costs among the travelers.
Smart Spending: By weighing the costs of various transportation options, you may decide on a course of action that fits both your budget and your trip goals.
The amount of exploration, the number of people traveling, and your budget will ultimately determine whether you choose a rental car or another mode of transportation. With a variety of cost-effective rental options and upfront pricing, Santorini Holiday Cars gives you all the information you need to pick the ideal method of transportation for your trip to Santorini.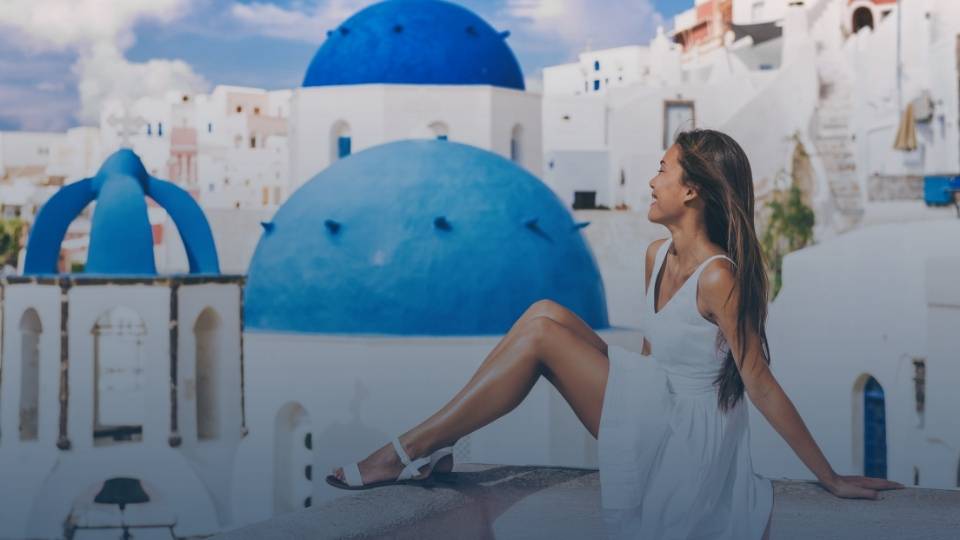 Santorini Driving Experience: Road Challenges
It's important to consider your driving comfort and experience when making travel plans to Santorini, especially when negotiating the island's curvy, twisting roads.
Santorini's roads can be congested and twisty, and they provide particular difficulties for drivers who are used to traveling on wide, straight roads. Before choosing a rental automobile, think about how comfortable you are driving on such terrains.
Driving Experience: Consider your ability to respond to various road circumstances when driving. If you're not used to driving on the right side of the road, give yourself some time to become used to it and become familiar with the local traffic laws.
Safety Priority: Put your own and your fellow travelers' safety first. If you're unsure about driving in Santorini's unique road environment, you might want to consider other options like taxis or guided tours to relax while exploring the island.
Explore with Confidence: If you feel comfortable behind the wheel, renting a car enables you to travel off the usual road and discover undiscovered jewels at your own leisure.
Make an informed decision based on your driving preferences and abilities. To ensure that everyone gets the ideal fit, Santorini Holiday Cars provides a wide selection of rental cars appropriate for varied comfort levels.
Local perspectives on the finest driving routes and safety measures to take in Santorini can be found by asking locals or rental car companies for assistance.
Understanding your driving confidence can help you make the best decision for a memorable and comfortable experience on the alluring island of Santorini, whether you're an experienced driver looking for adventure or prefer a relaxing voyage.
Santorini Holiday Cars: Reputable Company
Santorini Holiday Cars stands out when it comes to picking a reliable vehicle rental business for your trip to Santorini because to its great service and glowing customer testimonials. Why it's the best option is as follows:
Santorini Holiday Cars has a wide selection of well-kept cars in its fleet, so you can be sure to discover the ideal vehicle for your needs, whether you need a small car for solitary exploration or a roomy family vehicle.
Positive Customer Reviews: Santorini Holiday Cars has garnered a reputation for its first-rate service and client contentment thanks to a large number of positive customer reviews. Travelers praise their dependable cars and easy rental process.
Superior customer service: You can rely on the polite and knowledgeable customer service staff at Santorini Holiday Cars. They are readily available to respond to any questions and guarantee a simple rental process from beginning to end.
Transparent Pricing: Santorini Holiday Cars offers upfront pricing with no additional charges. Their straightforward cost breakdowns guarantee that you know precisely what to anticipate, making budget planning simple.
Santorini Holiday Cars places a high priority on your safety. You can travel in confidence because their vehicles are inspected, cleaned, and sanitized on a regular basis.
Santorini Holiday Cars provides handy rental stations all throughout the island, making it simple to pick up and drop off your car close to your lodging or favorite attractions.
Trusted Reputation: Santorini Holiday Cars is a well-liked option for tourists looking for a dependable and trustworthy car rental service on the alluring island.
By selecting Santorini Holiday Cars, you may have a pleasant and stress-free experience while touring the mesmerizing vistas and charming villages of Santorini at your own pace.
Car Rental: Early Booking
The smartest method to arrange your trip to Santorini is to make reservations in advance! Early reservations at Santorini Holiday Cars can secure your favourite vehicle and potentially unlock discounts. I'll explain why it's a wise choice:
Preferred Vehicle: By making a reservation in advance, you are guaranteed the vehicle that best meets your demands and manner of travel. Early reservations guarantee availability, whether you want a small car for exploring the city or a roomy SUV for family outings.
Get discounts: Early birds get the benefits! You can receive unique discounts and incentives when you reserve in advance with Santorini Holiday Cars, which will enable you to reduce the cost of renting a vehicle.
Securing Your Dates: Reserve early to secure your travel dates. Prevent last-minute headaches and guarantee your freedom to visit Santorini whenever you like.
Santorini is a well-known tourist destination, so rental cars can fill up quickly, especially during the busiest times of the year. You may avoid missing out on the ideal car for your ideal vacation by making reservations in advance.
Stress-Free Planning: Making early reservations makes vacation preparation less stressful. You can concentrate on planning the ideal schedule and looking forward to an outstanding Santorini experience once your vehicle rental is confirmed.
Greatest Prices: Reserve early to get the greatest deals. With advance reservations, you may take advantage of Santorini Holiday Cars' affordable selections and take advantage of their low pricing.
Plan early and drive with confidence on Santorini with help from Santorini Holiday Cars. Don't wait until the last second. To ensure a smooth and unforgettable trip to this alluring Greek island, make your reservations right now.
Rental Car Insurance: Peace Of Mind
For a stress-free trip to Santorini, it's essential to understand rental car insurance. This is why:
Safety & Peace of Mind: Learn about the insurance protection offered by Santorini Holiday Cars. Knowing what is included gives you peace of mind throughout your vacation and guarantees that you are protected in the event of unforeseen events.
Additional Coverage: Santorini Holiday Cars may provide optional add-ons for supplementary insurance, such as theft protection or collision damage waiver (CDW). By being aware of these possibilities, you can modify your insurance to meet your needs.
Potential Charges: Some rental car insurance policies may include deductibles or charges related to specific claims. Knowing about these costs aids in accurate budget planning.
Rental Requirements: For certain vehicle types or driver requirements, specific insurance coverage may be required. A smooth leasing process is ensured by being aware of these prerequisites.
Check the Details: Read the small print in the rental agreement carefully. Recognize any limitations or exclusions that may have an impact on your coverage.
Customer assistance: Don't be afraid to get in touch with Santorini Holiday Cars' customer assistance if you have any inquiries about insurance coverage. They'll be delighted to help you.
Third-Party Coverage: Confirm whether your personal auto insurance or credit card coverage includes rental car coverage. You could avoid costly overages and coverage overlap by doing this.
Peaceful Exploration: By being aware of your rental car insurance, you can focus on making the most of your trip by discovering Santorini without concern.
Having understanding of insurance protection will allow you to confidently reserve a rental car from Santorini Holiday Cars, knowing that you are properly covered for your travel requirements.
Learn the ins and outs of rental car insurance to put your peace of mind first. Make the most of your trip to Santorini by taking the time to comprehend your coverage!
Santorini Car Rental: HiddenGems
In the end, whether or not you decide to hire a car in Santorini, Greece, depends on your personal needs and preferences. Renting a car gives you the flexibility to travel at your own pace, stop at unexpected places, and explore the island at your own pace. This allows you to reach rural sites and undiscovered jewels that may be difficult to get by public transit.
A rental car is a great choice if you prefer the convenience of always having a car available for day trips and excursions without relying on set schedules. Take into account the probable difficulties of driving in Santorini, such as insufficient parking spots and crowded locations during the busiest travel seasons, and assess your driving comfort level and expertise navigating curvy, narrow roads.
A worry-free trip requires knowledge of the insurance and any additional costs for the rental car. You can guarantee a smooth rental process by selecting a dependable car rental business like Santorini Holiday Cars, which is supported by great client ratings.
Think carefully about your travel preferences and the activities you have planned before deciding whether to rent a car or look into other modes of transportation. Regardless of your decision, Santorini's beautiful scenery, charming villages, and mesmerizing sunsets are waiting for you.
Finally, your Santorini journey ought to be a pleasant and memorable one. We urge you to carefully examine the benefits and take into account your preferences. Whatever you decide, have fun exploring Santorini knowing that you made the best choice for your particular journey.
Santorini Car Rental FAQ
Do I Need a Rental Car in Santorini?
---
You can discover Santorini's true character by renting a car and traveling to off-the-beaten-path locations and secret attractions that are inaccessible by public transportation. It gives you the freedom to travel at your own pace, making impromptu stops and making priceless memories.
What is Santorini well known for?
---
Santorini is well known for its breathtaking views, charming villages, and mesmerizing sunsets. Its stunning cliffs, whitewashed homes, and blue-domed churches provide a mesmerizing blend of natural beauty and old-world charm.
With a rental car, what can I see and do?
---
You may discover off-the-beaten-path areas, view stunning sunsets from hidden locations, and fully immerse yourself in Santorini's rich history and culture by renting a car. Explore historic monuments, wineries, and the remains of a rich Minoan culture.
How can I make driving as smooth as possible?
---
Santorini's roadways may be cramped and narrow, especially during the busiest travel times. To minimize crowds, consider doing your investigation during off-peak hours. Select a dependable rental car and go cautiously on the twisty roads.
Why Should You Use Santorini Holiday Cars?
---
Santorini Holiday Cars is a reliable car rental company with a large fleet of well-kept vehicles. They have good client evaluations and provide upfront pricing, exceptional customer service, and a hassle-free rental experience.
Should I Make a Reservation in Advance?
---
Early booking secures your desired vehicle as well as potential incentives. Secure your vacation dates and arrange your trip with Santorini Holiday Cars.
What about car rental insurance?
---
Understanding rental car insurance coverage is critical for traveling with peace of mind. Santorini Holiday Cars offers extensive insurance coverage as well as optional add-ons for added security.
How does the decision to rent a car affect travel plans?
---
The decision to rent a car is influenced by the planned activities, length of stay, and chosen travel style. A rental car gives you the flexibility, convenience, and freedom to discover Santorini's hidden gems at your own leisure.
How does car rental compare to public transportation?
---
The cost-effectiveness of public transportation is matched by the unparalleled convenience and accessibility to outlying areas offered by renting a car. Choose the best option by weighing the costs and taking group travel into account.
What Elements Should I Take Into Account for an Experience to Remember?
---
When deciding whether to rent a car, take into account your driving experience, finances, and preferences. To accommodate every level of comfort, Santorini Holiday Cars offers a selection of vehicles.