Perissa Beach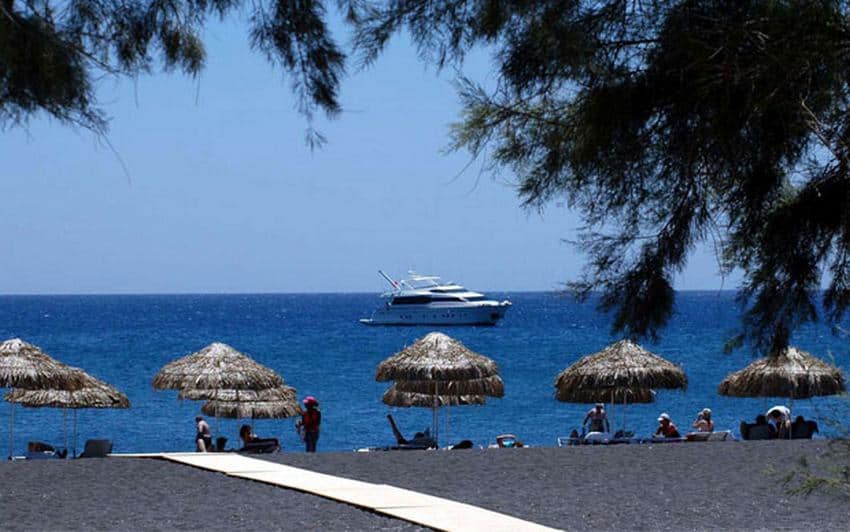 The beautiful beach of Perissa is located at the base of the mountain Mesa Vouno, which separates Perissa from Kamari, and at its top, you can admire the famous archaeological site of Ancient Thira and its wonderful views.
It is about 13 kilometers from Fira, on the southeastern coast of Santorini, and is easily accessible by car or bus. The scenery made up of the black volcanic lava together with the sandy seabed and the deep blue color of the crystal waters make up is extremely impressive. The beach of Perissa is one of the largest and most famous beaches of Santorini, a  typical beach of the morphology of the volcanic island.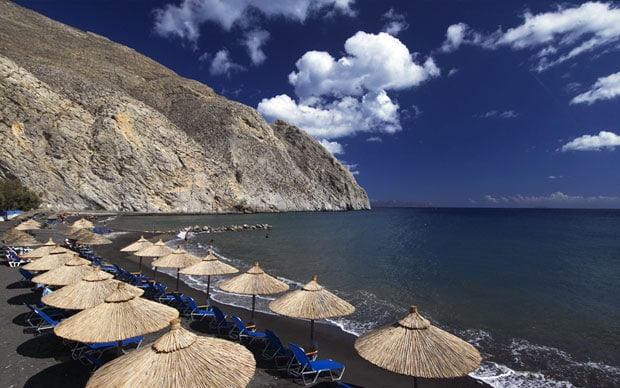 The reason most visitors come to Perissa is to enjoy the excellent beach, which is fully organized with sunbeds, umbrellas, beach bars, lifeguards and has received the Blue Flag Award. In addition to this, there are water sports facilities, diving centers, a water park, and a beach volley area so that the time you spend there will be as carefree as possible and more fun for you and your family.
The Perissa beach is connected to Perivolos and there are many nightclubs, restaurants, taverns, and cafes to choose from, throughout the day to the early hours.
In the village, you can find mini markets and many other shops with clothes, souvenirs and whatever you need.
Perissa is a nice tourist resort that is overwhelmed by tourists during the summer season. It offers a wide variety of hotels for all budgets, as well as restaurants, taverns, cafés, and bars. The area is extremely developed with modern comforts and is quite welcoming while maintaining its strong traditional character.
Things to do While on Perissa Beach
Visit the Museum of Minerals and Fossils
Visit one of the largest churches on the island, Timiou Stavrou, in Perissa square
Stay up late and go to one of the beach bars
Eat a great meal opposite the beach
Try the water sports
Swim and sunbathe
Visit Santorini Waterpark
Visit Ancient Thera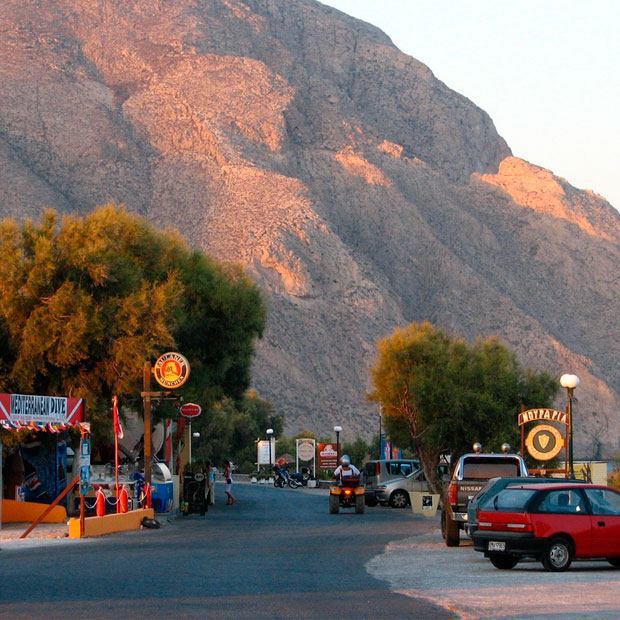 How to Get
There are 3 ways to get from Fira to Perissa:
Bus (20 min)
Get the bus from the Fira Bus Station. According to Santorini Public Buses' website the prices are:
2.40€
Low price (-50%) for people having many children or any kind of disability 1.20€
Students 1.70€
Night Routes (00:30-05:00) 3.00€
Santorini Taxi or Santorini Transfer Service to Perissa Beach (12 min)
Book your Santorini Transfer to Perissa Beach with a taxi or minibus instantly and with total safety. Just fill in the form fields and choose the vehicle that is right for you.
Drive by your car or hire a car in Santorini (12 min)
You can visit the famous Perissa beach in your car or rent a car with great car rental rates from Santorini Holiday Cars.