Vlychada Beach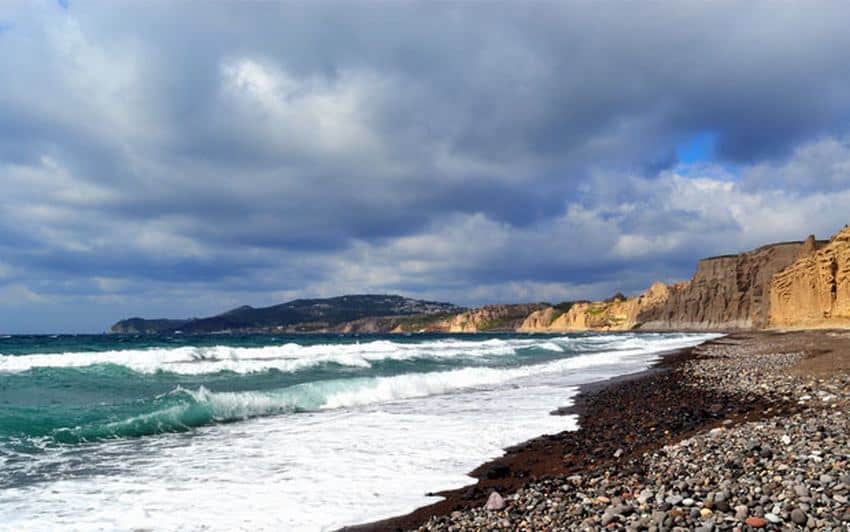 Vlychada beach is on the south coast of Santorini, around 10 km from Fira the capital. Vlychada is a charming fishing village, where visitors can relax at seaside taverns and cafes. Vlychada combines a dark sanded beach with a marina for mooring private yachts.
The landscape has been manipulated by salt and winds over the years, with beach cliffs resembling the surface of the moon. Carved tombs were found in the limestone rock dating back to Hellenistic times. The beach is organized, with umbrellas, sunbeds and a canteen.
If you are trying to slow it down a bit and get away from most of the action, consider this village. Don't forget to carry a pair of flip-flops, suntan lotion, a hat and a pair of sunglasses. If you intend to visit the beach, we would suggest a smaller model of car that can easily navigate the winding roads, and at the same time, has enough space for all the necessary things you need for Vlychada.
Location: 13 km from Fira on the south coast of the island
Description: Vlychada is a nice, organized beach with a small marina where fishing boats and yachts moor in summer.
Things to do in Vlychada:
Swim in the waves and sunbathe on the beach
Enjoy fresh fish and Greek dips at one of the taverns above the marina
Relax away from the crowds